Claudia Stylista
Fashion Entrepreneur & Style Guru
Why should I use styling services?
Do you have things in your closet and wardrobe that you rarely wear? There are many reasons our closets need curating. A Closet Curation by Claudia can set you on the road to creating stylish outfits for every situation and event in an effortless way. A Curated Closet can save you time, money, and worry. This is an investment in your appearance and helps you make the best use of the items you own with recommendations on additions to your wardrobe as time goes forward. The same applies for having professional and expertise styling services to help you create your best look for events, outings, celebrations, and of course, an everyday or workweek wardrobe.
Are clothes and outfits really that important?
If you are like most people, you wear about 20% of your clothes 80% of the time! That's a lot of closet space and money spent on clothes which live only on the hanger.
Even before you have a chance to speak, a first impression is made. This impression is based on your appearance alone. Your clothing and style make the first – and a lasting – impression. It's so permanent that 93% of the first impression is based on appearance. That leaves only 3% for nonverbal cues and what you actually say.   It's not right; it is reality.
Cut and Fit
When you consider the impact of your clothing, it is important to first look at the cut and fit. This may be why many items in your closet go unworn. They just don't fit or are no longer flattering. Poorly fitting clothes can give the wrong impression of a person. Others may wrongly assume that you don't care or are not giving the event/meeting/person enough respect.
Color
The color of your clothes is just as important. When you wear the colors and shades which complement your skin tone, you can look 5-10 years younger! A poor choice of color can make you look older. Learning which colors are best for you helps you have a functional wardrobe with most pieces easily combined with many other pieces.
There are many economic and emotional benefits from hiring Claudia as your image consultant and personal style guru. The benefits begin with a full Closet Curation.
Benefits of a Closet Curation
• Claudia will teach you about cut, fit, style, and colors which serve you well.
• You can avoid making "mistakes" which result in items just living on your hangers.
• Claudia will help you make the most of your purchases by combining items for many different outfits and events.
• You will have a better Return on Investment, wearing pieces more often.
• Claudia will help you make your best first impression.
• Best of all, you will feel better by looking better.
How to know when you need a Closet Consultation
There are many signs when a Closet Curation is needed. Even if you have done this in the past, times change, bodies shift, climates and personal lifestyles change, and appropriate items and looks for your age and this new century need a modern touch and feel.   You may need a Closet Consultation if:
You are waiting to reach a goal weight
There are more than 2 sizes of clothing in your wardrobe
An item does not "go" with anything else you own
You don't know how to pair a specific item(s) with others in your closet
You don't remember what you have in your closet
When you shop, you can't remember what you own and often come home with duplicate/similar items
You can't find something to pair with what you already own when you shop so you buy something specifically for that one item/outfit/even that you never wear again
You don't have enough clothes to suit your professional, social, or lifestyle needs
You are wearing a trend you wore in the past
You don't have modern versions of "classics" in your closet
You have changed your workplace
You are transitioning from school ® to work, or home ® to workforce
You have changed your lifestyle (you might have recently married, divorced, retired)
Why should you choose Claudia as your style guru and fashion consultant?
Claudia has expertise working with a wide variety of clients of many different ages. She aids in daily, social, event, and work wardrobe development. This goes from Curation to planning, purchasing, and outfit creation. Her attention to details (such as cut, style, fit, color, function, value) allows her to tailor her time and suggestions to you, your needs, and tastes.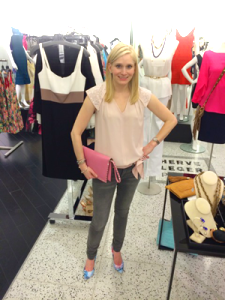 One size
does NOT
fit ALL
with Claudia.
You get personalized, original, and refined service all the time.
Claudia's Background
Above all, Claudia Lederer Saenz' primary love, and the center of her business, is to help her clients realize their inner potential while teaching them skills to face many of life's challenges – not the least of which is developing and maintaining an original and timeless personal style. She is a member of the Association of Image Consultants International (AICI).
Through her studies and eventual degree in Public Relations with a minor in Communication Studies from the University of Alabama, Claudia knew her talents would allow her to offer excellent style and image services. She took steps to learn the insides and trade of the fashion world, integrating it with her knowledge in public relations. She was an intern for Cathy Fitzpatrik Cleary –one of Houston's premier Image Consultants. Claudia also worked with Jo Ann Woodward of Woodward and Schwartz, a renown wedding and event consulting firm in Houston.
Claudia also has a strong background in social events and planning including her involvement as an active member in the Junior League of Houston and the Houston Pi Beta Phi Alumnae group. All of these experiences motivated her to purse a career which centers around working with and helping others. She is successful in her business which has a foundation in her fashion, style, and image-enhancing skills and knowledge.